Meet The Staff of Timber Creek Therapies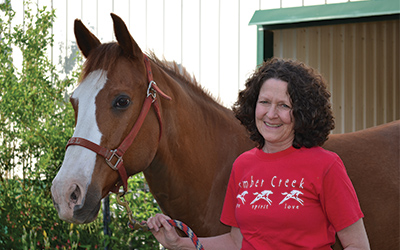 Cindy McCarty
Cindy McCarty received her Bachelor's of Science in Elementary/Secondary Education in Speech Correction from Northwest Missouri State University in 1974 and her Master's of Art in Communication Disorders from the University of South Dakota in 1975. She currently holds the Certificate of Clinical Competence from the American Speech and Hearing Association and is licensed by the State of Iowa to practice privately in Speech/Language Pathology. She also holds a Level 1 Therapist Certification from the American Hippotherapy Association.
McCarty is a member of the American Speech and Hearing Association, the Iowa Speech and Hearing Association and the American Hippotherapy Association. She has worked for 38 years in Area Education Agency schools and in private practice in area hospitals, nursing homes and public health agencies. She started creating and building Timber Creek in 2000, and bringing patients in the doors in 2001.
As a speech/language pathologist, McCarty completes evaluations for patients who have communication, language, cognitive and eating/swallowing disorders. She writes treatment plans to address any areas of difficulty for clients of all ages with a wide variety of diagnoses.
McCarty says, "As the Director of Timber Creek Therapies, and the Founder of Timber Creek Charities, I work hard to incorporate a variety of treatment services and options for our patients. I am proud to say that at Timber Creek I have more tools to utilize for my patients than at any other center I have worked in."
"We have a very talented group of therapists and other staff members. I am so proud of their expertise and collective caring efforts for all of our patients. It is a blessing to be able to come to work and watch each individual on our staff cheerfully doing her/his job and helping each and every patient work to achieve his or her maximum potential."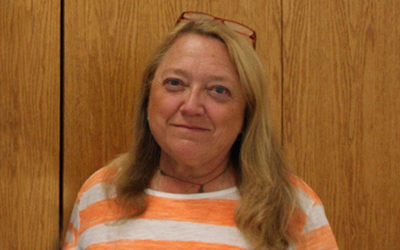 Sue Behrens
Sue Behrens is a founding member of Timber Creek Therapies, since she has been involved since the inception of the idea to create such a center. Sue and Cindy McCarty have worked together for more than 30 years. Sue attended Iowa State University from 1972-1975 and completed her Physical Therapy program at Northwestern University in 1976. She completed her Doctor of Physical Therapy degree in 2007.
Sue has worked in a variety of settings, hospitals, outpatient treatment centers, schools, nursing homes, individual homes, home health and almost any setting possible. She is the founder of her own private practice, Preferred Physical Therapy. She continually strives to learn as much as she can to help each and every patient achieve his/her maximum potential. She works tirelessly and offers 110%+ to each patient in each treatment setting.
Sue set up the physical therapy department at Timber Creek and has provided much of the equipment and a tremendous amount of knowledge to the program and its patients.
Sue has been the President of Timber Creek Charities since its inception in 2002. This demonstrates another way she strives to help all patients receive the treatment they need to achieve their maximum functional potential.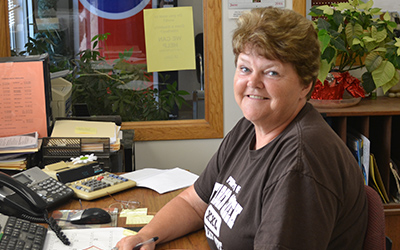 Diane Owen
Diane Owen began working at Timber Creek Therapies when the front door to the clinic opened in 2002. She has made the one-hour drive from her home in Carroll ever since. She runs the office and is in charge of billing and reimbursement practices. She helps with the policies and procedures and keeps track of staff data.
Diane does all of the scheduling of all of the patients for all of the therapists, which is no small task. She cheerfully greets each and every patient and family member as they walk through the door. She remembers every patient's birthday and promotes the loving, caring atmosphere we want to extend to each patient and his/her family as they come to Timber Creek for treatment and healing.
Diane received her Bachelor of Arts in English and History from the University of Wisconsin, Lacrosse, in 1972. She has worked for Medicare and Wellmark in insurance claims and review processes. She "knows her stuff" and keeps updated with all procedures. We couldn't continue to run without her expertise and efficiency, not to mention her loving, caring concern for all.
Diane says, "Timber Creek is an amazing place with wonderful, caring people and heartwarming success stories. I am very fortunate to be a part of it."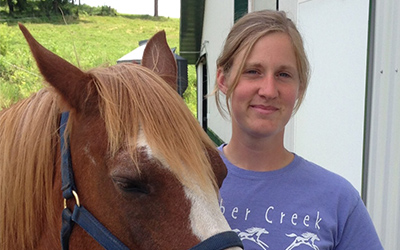 Meg Schmidt
Meg (Johnston) Schmidt has been helping at Timber Creek Therapies since she was 12 years old. She began as a volunteer and became an invaluable staff member a few years later. She trains the horses, does a good share of the farrier work, manages and oversees the farm and land at Timber Creek and works as a trusted horse leader, handler, and wonderful communication partner with patients in the equine assisted therapy program.
Schmidt helped develop and scheduled a carriage-driving program for area nursing homes. She schedules volunteers and leads many of the therapeutic riding programs and classes. She even had her wedding at Timber Creek Ranch and our horse, Jewels, led by her father, carried her up the hill to meet her groom for a beautiful outdoor wedding on the hill behind the stables.
Meg is a very important part of the Timber Creek family. She says, "My two favorite things about working at Timber Creek are: 1. Watching an individual strive for goals, and being able to celebrate with that person when those goals are achieved. 2. That over 50% of the staff members are horses." That's our Meg!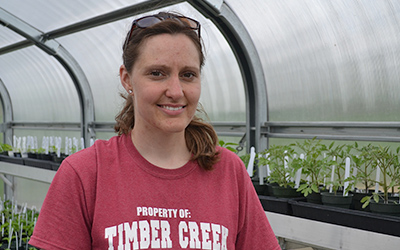 Beth Johnston
Beth Johnston has been helping at Timber Creek since she was 16 years old. She began as a volunteer and has become an invaluable staff member. Beth helps with the equine assisted therapy program as a horse leader and side walker. She also is a very valuable communication partner. She has an intuitive sense of caring for each patient and works hard to help each and every patient improve in whatever they are working on. She has recently joined our newest program—Equine Assisted Psychotherapy and Learning Life Skills—as a horse handler and therapy assistant. Beth has a deep compassion for all living creatures and adds greatly to all of our programs.
Beth also helps at Timber Creek Ranch with grounds keeping and the gardening program, which is used to teach patients and others about researching topics, written expression and writing skills, sustainable gardening and food production. She helps in the greenhouse from the planting of the seeds through the production and harvest of the various fruit and vegetable crops. We study Heirloom flowers, fruits and vegetables and encourage others to learn as well.
Beth says, "It is a blessing to be a part of the healing journey of others."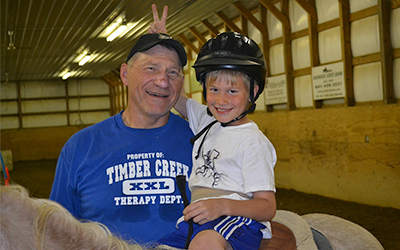 Merv Krakau
Merv Krakau graduated from Iowa State University in 1973 with a Bachelor of Science in Education. He played football for ISU and went on to play professional football for the Buffalo Bills for six years and one year with the Tampa Bay Bandits. He completed his Master's of Science in Education in 1987. He has taught school, coached football and worked as a manager for UPS.
Merv came to work at Timber Creek in 2007. He is a strong hand with an extremely gentle heart. He helps with the equine assisted therapy program as a horse leader, side walker and communication partner extraordinaire. He specializes in charming the young patients and is thoughtful and kind to all of our patients, guests and families.
Merv manages the facility and does chores, works with and cares for the horses, mows the grass, hauls feed, works on the arena, tends fence, moves snow, and all other tasks that need to be done with a willing heart and a can-do attitude. We are grateful for his help in all areas.
Merv says, "I enjoy working at Timber Creek because of the patients. They come with good attitudes trying to improve the quality of their lives, and when they are successful, it's very rewarding to think I may have played a small part in helping them. Timber Creek is a unique place."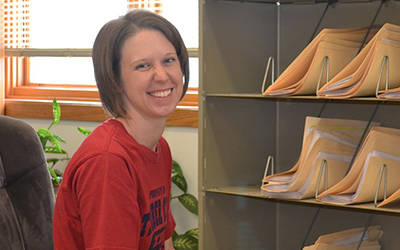 Allison Stanley
Allison Stanley, OTR/L, received her Bachelor of Art in Psychology and Master's of Occupational Therapy at St. Ambrose University. She holds current certification with the National Board for Certification in Occupational Therapy and licensure by the Iowa Board of Physical and Occupational Therapy. She holds a Level 1 certification in HPOT from the American Hippotherapy Association and training in Therapeutic Listening.
Stanley says, "As an Occupational Therapist at Timber Creek, I complete individualized evaluations and skilled therapy sessions to improve the quality of life and increase independence for clients of all ages. I enjoy coming to work each week at Timber Creek. The staff is caring, compassionate, energetic, extremely talented and wonderful to work with. I love making a difference in the lives of my clients and using the unique treatment options available, including hippotherapy and aquatic therapy."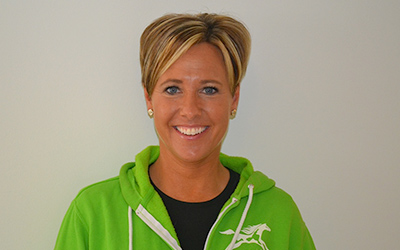 Lori Hofmeyer
Lori Hofmeyer, MA CCC-SLP, received her Bachelor of Art in Communication Disorders at the University of Northern Iowa and Master of Art in Communication Disorders at the University of South Dakota. She holds current certification with the American Speech Hearing Association in Speech-Language Pathology and licensure by the Iowa Department of Public Health for Speech Pathology.
Lori says "Timber Creek is a place where you are able to get top-notch treatment but in a more laid back and unique setting. Many of my clients are doing their speech therapy while riding on a horse. They begin to forget that they are actually getting treatment! The staff cares deeply for each and every patient and once you have walked through our doors you, too, become part of our Timber Creek family. I feel so fortunate to be a part of this amazing place and making a difference in the lives of so many."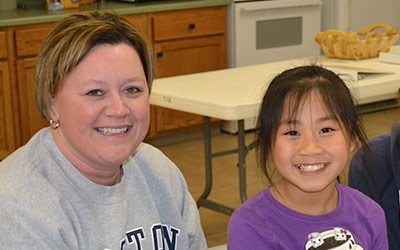 Lynnea Andersen
Lynnea Andersen is the director of the Equine Assisted Psychotherapy and Assisted Growth and Learning program at Timber Creek Therapies. Lynnea received her Bachelor of Social Work (BSW) from Briar Cliff University in 1998 and her Master of Social Work (MSW) from the University of Iowa in 2007. She is a member of the Catholic Social Workers Association, the National Association of Social Workers and EAGALA. She is certified in Equine Assisted Growth and Learning and Basic Crisis Debriefing Incident Stress Debriefing. She also is Associate Vice President of Psychosocial Care at Saint Jude Hospice.
Lynnea says, "I love working at Timber Creek. From the moment I heard about Timber Creek I knew I wanted to be involved in some way. I truly feel I have been called to work with those who are encountering trouble and hurt in their lives and to help them develop hope. Having the ability to work with horses and people is like no other experience. Horses have a way of not only touching the souls of our clients but also touching our souls as we are helping them. 'A friend is always loyal, and a brother is born to help in time of need.' Proverbs 17:17. Timber Creek is a place where hope happens."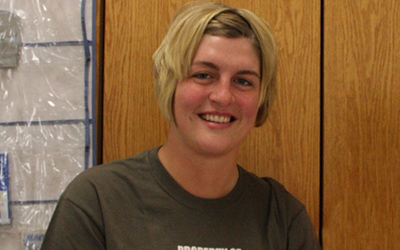 Andrea Redfern
The newest staff member at Timber Creek Therapies is Andrea Redfern. She joined the physical therapy department in July of 2014. Andrea completed her Bachelor of Arts, in Biology, from Central College in Pella in December 2010. She completed her Doctor of Physical Therapy degree from Des Moines University in May 2014. Andrea has been a member of the American Physical Therapy Association and the Iowa Physical Therapy Association since 2011.
Andrea has experience with outpatient orthopedic, acute care, acute rehabilitation and pediatric clinical settings. She has additional education and rehabilitation experience with pediatric, adult and geriatric populations in a variety of settings.
Timber Creek Therapies is excited to welcome Andrea to the staff of clinical experts and we look forward to working with her and sharing her kind, competent and generous skills and knowledge with our patients.